NEW DELHI: The CBI has cracked down on an alleged "cash for treatment" fraud operating in Safdarjung Hospital and arrested a senior neurosurgeon, as well as a South Delhi businessman and three middlemen, for malpractice and corruption. The accused doctor, Manish Rawat, is an associate professor in the hospital's department of neurosurgery and is a resident of Lodhi Colony.
The agency is investigating crimes ranging from demanding bribes from poor people for treatment to overbilling and money laundering.
Items Sold Above MRP, Profit Sharing With Doctor
The arrested businessman deepak khattar, is the owner of Kanishka Surgicals in Jungpura. The three intermediaries have been identified as Kuldeep, Avnesh Patel and manish sharma.
"The accused doctor used to demand money for giving medical advice and performing surgeries, disregarding the rules for hospital treatment," agency spokesman RC Joshi said. In three recent cases, bribes of Rs 1.15 lakh, Rs 55,000 and Rs 30,000 were allegedly taken from attendees through intermediaries, prompting the CBI to act, the sources said.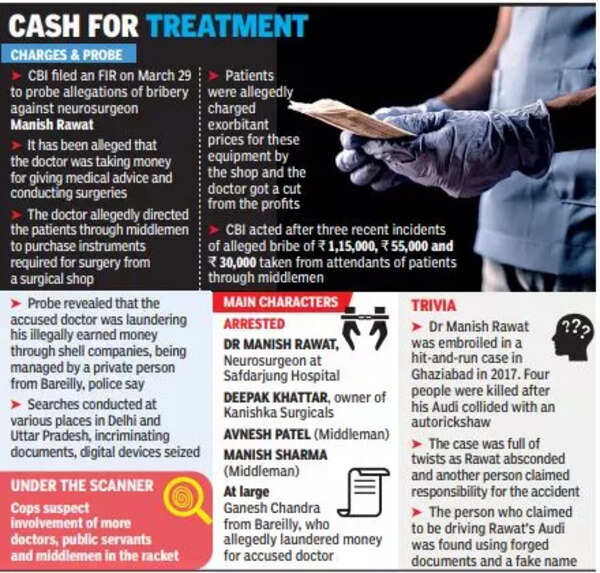 The CBI investigation has revealed that Patel, on behalf of Dr. Rawathe told the patients' assistants that he could get an early appointment if they paid a bribe and agreed to purchase the instruments needed for the surgery at a particular store.
Patel allegedly asked them to deposit the amount in cash with Manish Sharma or Kuldeep, both Khattar employees, or transfer it online to mobile phone numbers linked to their bank accounts. "Thereafter, Dr. Rawat decided on the timing of the surgery," states the FIR filed by the agency. After the patient was discharged, Patel gave him Rawat's share in cash or as directed.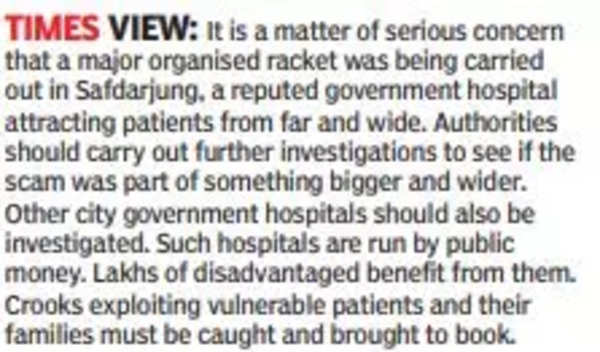 The agency claims that the doctor directed patients through these intermediaries to purchase the instruments required for the surgery from Kanishka Surgicals. The store increased bills, sold items above MRP, and then shared the profit with the doctor.
"Searches were carried out at various locations including Delhi and UP, leading to the seizure of incriminating documents and digital devices etc," the spokesperson added.
The arrested defendants have been brought before the court and remanded in custody for questioning.
Safdarjung Hospital said in a statement that they had been informed about the arrest and that the accused doctor was taken to the hospital for a medical examination at 7:52 a.m. Thursday. The health ministry has been informed of the developments.